The new, fully refined, non-GMO oil will provide a cost-effective alternative for customers looking for an on-trend, health-forward, and planet-friendly ingredient for a range of food and personal care applications. With a price point on par with Non-GMO canola oil, and a nutritional profile to rival avocado oil, Blue Sky's refined hemp seed oil is poised to capture a growing share of the US$90.42 billion edible oil market*, and to expand its presence in the USD $1.28 trillion global emollients & oils for the personal care and cosmetics market**.

Overcoming Hemp Seed Oil's Past Challenges
​
While cold-pressed hemp seed oil is known for its impressive nutraceutical properties including the perfect 3:1 ratio of omega-6 and omega-3 fatty acids, paired with a cocktail of vitamins and minerals, mainstream adoption of the product has been limited due to its colour, taste profile, low smoke point, high price point and short shelf life. Blue Sky's refined hemp seed oil overcomes these challenges, maintaining 95% of the health benefits of the cold-pressed oil, while colourless, odourless, with a smoke point of 97 ℃ (205°F) and a shelf life of 18 months +.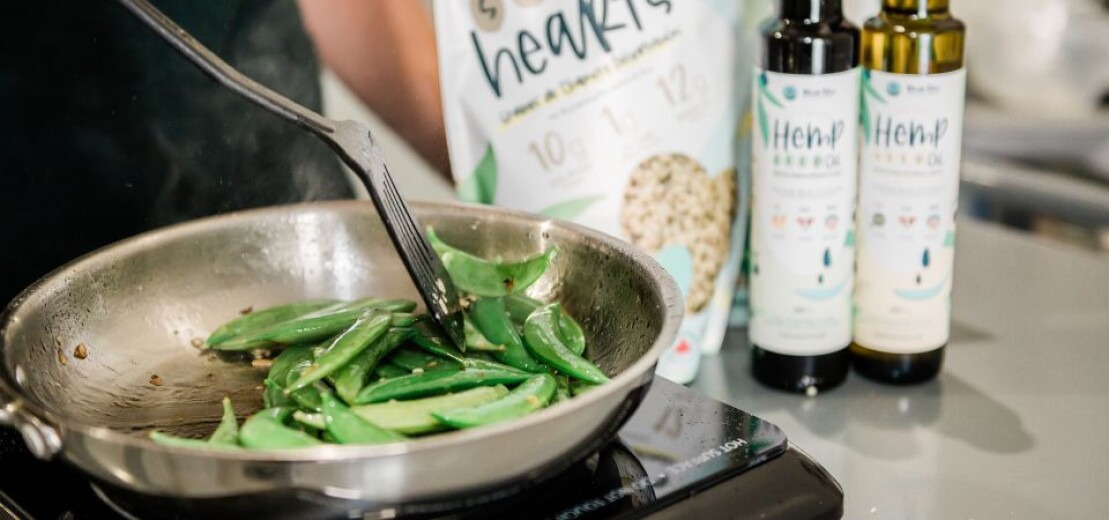 The Price is Right - at Last. Whole Plant Utilization Delivers a Lower Cost to Customers and Planet.

In addition, Blue Sky's refined hemp seed oil is considerably more affordable than its predecessors, making it a more accessible and appealing kitchen staple as well as for commercial applications in food and personal care.
"We see a huge opportunity for any brand looking for commercial differentiation and to truly adopt hemp, without the usual premium price tag. We get it, hemp seed oil 1.0 had its challenges, but Blue Sky's refined hemp seed oil changes the game."
Ben Carnevale, Food Scientist & Sales & Marketing Director, Blue Sky Hemp Ventures.
Nutrition, applicability, and price point aside, Blue Sky Hemp Venture's approach to whole plant utilization also positions its refined hemp seed oil as a carbon-neutral ingredient - enabling it to compete aggressively on sustainability.

In a global study conducted by Simon-Kucher & Partners, 60 percent of consumers rated sustainability as an important purchase criterion. This study reveals significant global paradigm shifts away from high GHG-emitting oils like palm, opening the door to more sustainable alternatives like hemp seed oil. The hemp plant on its own is extremely green. In fact, one hectare of industrial hemp can absorb 15 tonnes of CO2. It cleans the soil and grows easily and abundantly across the prairies, requiring little fertilizer, pesticide, or water. This, combined with Blue Sky's unique approach to whole plant utilization, enables the company to harness the full potential of the whole hemp plant - for seed, fibre and flower to deliver more value from every planted acre, with near-zero waste.
"Price and sustainability are both 'key themes' for ingredient buyers looking to reduce their end-to-end carbon footprint and price point across supply chains. Normally, one comes at the expense of the other - but not anymore."
Says Andrew Potter, Founder and CEO of Blue Sky Hemp Ventures.
"Our process delivers a carbon-neutral ingredient that's also cost-effective. We anticipate that the improved functional properties of our refined hemp seed oil combined with our ability to scale up, and reduce costs will significantly expand the market for hemp applications in foods and personal care."
How Refined Hemp Seed Oil Stacks Up
Blue Sky Hemp Ventures Refined Hemp Seed Oil (RHSO) at a Glance

Health Benefits: The many health benefits of hemp seed oil come from its high content of three polyunsaturated fatty acids: linoleic acid, alpha-linolenic acid, and gamma-linolenic acid. Additionally, its ratio of omega-6 (linoleic acid) to omega-3 (alpha-linolenic acid) fatty acids is 3:1Sensory Profile: Translucent, clear to amber hue vegetable oil that has little to no taste or odor.

Smoke Point: stable for cooking with a smoke point of 401 ℉ or 205 ℃
Facilities: Processing in accordance with Food Safety Systems - food grade. GSFI, Dairy Free, Gluten-free, nut-free, Non-GMO.

Food Applications: as a kitchen oil, cold for dressings, marinades, for shallow frying. For industrial food applications for saturating granolas, as a thickening agent, for health benefits. Also suitable for pet food applications.

Personal Care Applications: Emollient rich with nutrients and omega fatty acids making it a popular ingredient for creams, serums, lotions, massage oil, hair care products, and as an effective treatment for eczema, psoriasis and mastalgia, and more. Refined hemp seed oil is also one of the driest feeling natural oils available, being absorbed quickly into the skin. It provides high fluidity and excellent lubricity without being greasy.

Carrier Oil: Excellent absorption, neutral sensory profile, competitive price point, and long shelf life make it an ideal carrier oil for topical or ingestible applications.

Storage: 18 months from the date of manufacturing. Maintain in a cool dry environment away from oxidation, heat, or sunlight. For best results refrigerate after opening.


About Blue Sky Hemp Ventures
Blue Sky Hemp Ventures is a private Canadian company rapidly emerging as a world leader in whole plant utilization for hemp superfoods, cannabis extracts and sustainable industrial products. Established in 2017 in Rosetown, Saskatchewan, Blue Sky provides a range of sustainably farmed, high-quality, and exceptional value wholesale hemp and CBD products throughout North America and around the globe.