Hemp Foods
Hemp, at a lower cost to our customers and to our planet.
Blue Sky Hemp Ventures are proud leaders in whole plant utilization, combining sustainable farming practices with our state-of-the-art, end-to-end processing facilities to harness hemp's full potential. We use the grain for quality hemp foods, the flower for nutraceuticals and the fibre as a planet-friendly alternative to plastics, textiles, fuels and more.

The result? A better world, fuelled by hemp.
---
Bulk Hemp Foods
Here at Blue Sky, food is our bread & butter (both of which can be made with hemp!) We supply high-quality, low-cost hemp ingredients for todays health forward brands. Our bulk food product line includes hemp seeds, hulled hemp seeds, hemp protein powder, hemp seed oil, excellent customer service and product reliability.
---
Checking All the Boxes
All of our products are available in conventional and organic.
We take extra safety steps on our food processing line to maintain an exemplary level of nutrition and flavour from our products while extending the shelf life.
Blue Sky is certified organic, Kosher, non-GMO, and adheres to the most rigorous food standards in the business.
---
White & Private Label
Looking to include hemp foods as part of your retail offering? Or perhaps you're an entrepreneur with visions of hemp on your horizon? Here at Blue Sky, we help retailers and entrepreneurs alike bring high-quality, low-cost, sustainably farmed Canadian hemp foods to market.
We offer both private label, and white label solutions along with co-packing and branding consultations.
---
Why Blue Sky?
Looking for a compelling reason to get in touch about your bulk hemp food requirement? We have lots.
Quality range of wholesale hemp foods

Competitive prices | maximum profitability

Private label, white label + co-packing capabilities

Custom product formulations

Ability to meet demand - large scale and small

Excellent customer services
Whole plant utilization philosophy = More Value. Zero Waste
For the label readers...
And if your customers are inclined to read the label, then they might like our zero waste philosophy. While most of our competitors focus on one part of the plant, leaving behind substantial waste. The Blue Sky approach is 'whole plant utilization' meaning we harness the full value of the plant for food, fibre and nutraceuticals - delivering a better world fuelled by hemp.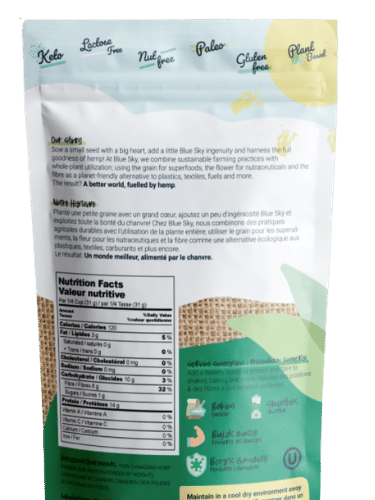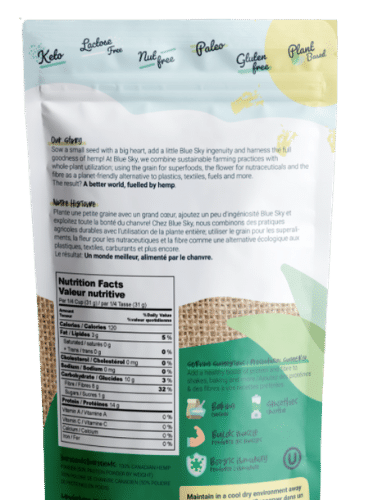 Age Confirmation
You must be 19+ to view this page. Please provide your birthdate to confirm.